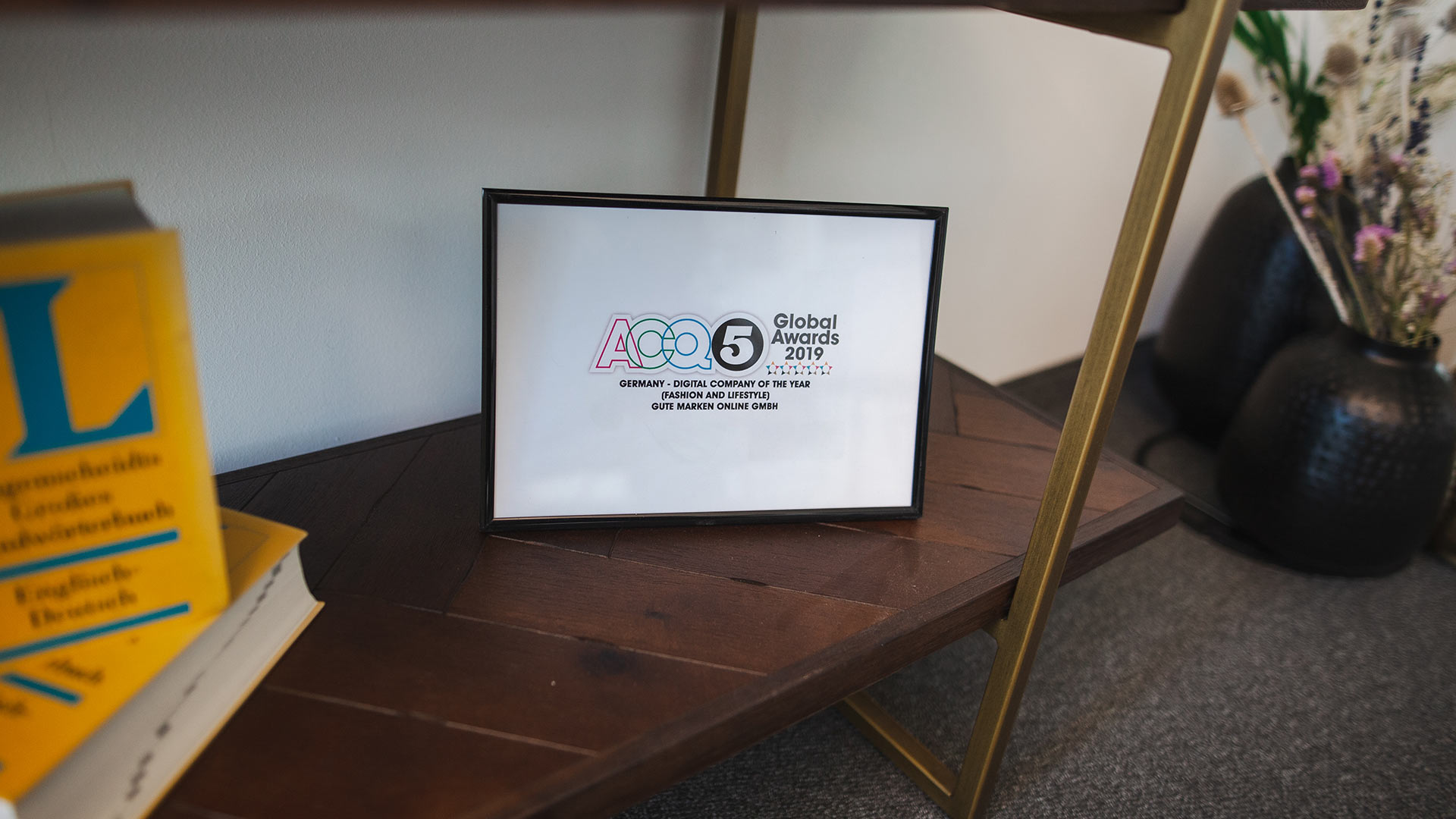 The news portal ACQ5 has awarded the GUTEMARKEN with the Global Award 2019 as "Digital Company of the Year (Fashion & Lifestyle)". The portal, which has seen its core competence in the financial sector since 2003, became aware of the Munich-based company due to its sustained strong economic performance.
With growth rates of over 1,000 % and prestigious awards such as the Deloitte Technology Fast 50, Wachstumschampion 2019 or FT1000, GUTEMARKEN belongs to the leading European companies in the digital industry.
"We work with bi- and trilateral organizations, international distributors, governments and leading opinion leaders to promote the core competencies of participating companies and lead them to the decision makers in their markets," says Justin Downey, Awards Coordinator at ACQ5. "In our research, we came across the outstanding economic performance of GUTEMARKEN – which ultimately convinced us to award GUTEMARKEN with the Global Award 2019 in the category Digital Company of the Year (Fashion & Lifestyle)"
The self-developed technologies of Fortuneglobe GmbH have contributed significantly to this revenue growth in recent years. "With the cloudbased marketplace technology ICE BEE and the PHP7 Micro Framework ICE HAWK from Fortuneglobe, we have managed successfully digitalizing the well-known business model "Intermediary" and, as a pioneer in the fashion industry, to support our partners with an easy and comprehensive entry into the fast-growing fashion online trade", emphasizes Thorsten Höllger, CEO of GUTEMARKEN. "In the long run, medium-sized fashion companies will not be able to counter the increasing complexity and the competition with billion-dollar companies on their own. The GUTEMARKEN model re-mixes the cards," says Thorsten Höllger, who was also honored as GAMECHANGER OF THE YEAR 2019 by ACQ5 for his innovative approach.
ACQ5, a magazine news portal in English-language, has been exclusively read by executives with power and authority in key organizations. Their readership are the people who select and approve the purchase of your products and services. The magazine is aimed at CEOs and CFOs and other corporate finance and private equity executives from around the world. ACQ5 achieves its goals through unbiased, focused and up-to-date reporting, country reports and multilateral documents commissioned in some cases by corporations, governments and multilateral institutions. ACQ5 focuses on strategy and human resources. Briefly: Everything that financial decision-makers need to know. In terms of scope and quality, ACQ5 occupies a unique place in the English-speaking publishing community.